2015 Jeep Cherokee Trailhawk vs. 2015 Subaru XV Crosstrek: A side-by-side comparison.
Grasp your pitchforks and light those torches because neither of these vehicles has solid axles or body on frame construction. But that's ok. What they lack in common with horse drawn buggies they make up for in computer aided traction systems that are filled with magic only electrical engineers can explain. To the rest of us, this means increased forward propulsion with far fewer cracks of the whip.
The 2015 Jeep Cherokee Trailhawk and the 2015 Subaru XV Crosstrek may not find themselves on everyone's "Ultimate Expedition Vehicle of All Time" list, but in today's terms both choices are surprisingly capable. To find out why, let's start with the Subaru.
Paired with a respectable 8.7" of ground clearance the XV Crosstrek takes full advantage of Subaru's decades of all wheel drive experience. A double wishbone suspension provides a comfortable and responsive suspension system for twisty paved roads such as Tail of the Dragon or the rough, 62 mile corrugated Hole in the Rock Road.
Subaru's former Chief Designer of Advance Design, Andreas Zapatinas once said of the company that ""innovation, courage and individuality"" would typify the designs of future Subaru vehicles". It's not clear whether he was talking technology or bright colors setting the brand apart, but the list of gadgets available for the XV Crosstrek is impressive –especially considering the low cost. Eyesight Driver Assist Technology, adaptive cruise control, 7" inch touch screen voice activated sat/nav, all help the driver to safely keep on track. Long legged drivers, including myself, are sure to appreciate the telescopic steering column. Subaru owners may have a bit more experience with techno gadgets, but under Fiat's direction, Jeep has made leaps and bounds in this category.
In a not too distant past, Jeep owners were excited to find cruise control or air conditioning as options. Now, it seems there is enough technology in the brand to rival NASA. The Jeep Cherokee Trailhawk benefits greatly from these vast improvements. A twist of a knob here, a push of a button there and you will find yourself safely traversing several grades of terrain. True, older Jeeps could also cover the same terrain, but with a much more involved driver white knuckling the controls. If there are teen drivers in your household, then the parallel / perpendicular park assist function may give you piece of mind. Another improvement drivers will come to appreciate is the amount of thoughtful storage Jeep has integrated into the Cherokee. My favorite is the under seat-cushion storage panel –
Dominic Torreto would approve.
Another welcome gadget is the selectable rear locker -this may be the single most important feature of this vehicle.
Jeep Cherokee under seat storage bin. A great place to store either recovery gear or extra tanks of Nitrous Oxide.
Jeep:
Landrover-esque terrain knob.

Base Price – $30,090
Engine –
2.4l 4 cylinder "Tigershark"
184hp @ 6250 rpm; 171 lb ft torque @ 4800 rpm
Optional Engine –
3.2l V6"Pentastar"
271hp @ 6500 rpm; 239 ft lb torque @4400 rpm
Fuel Economy (MPG) – 19 city/25 highway (4 cylinder, 4WD model)
Fuel Capacity – 15.8 gal
Max Range – 395 miles (4 cylinder model)
Transmission/transaxle – 9 speed automatic
Vehicle Curb Weight – 4044 lbs
Exterior Dimensions:
Overall Length – 15' 2"
Overall Width – 74.9"
Overall Height – 67.8"
Wheelbase – 106.3"
Track Width – 62"
Ground Clearance – 8.7"
Approach Angle – 29.9*
Departure Angle – 32.2*
Max Cargo Capacity – 54.9 cubic feet
Brakes – Front: 13" /Rear: 12.6"
Steering – 37.6' turning diameter
Tires – P245/65 R17 OWL All Terrain
Suspension – multilink
Locking Differential – Rear only
Subaru:


Base Price – $21,595
Engine –
2.0l horizontally opposed "boxer" 4 cylinder
148hp @ 6200 rpm; 145 fl lb torque @ 4200 rpm
Fuel Economy (MPG)– 26 city/34 highway
Fuel Capacity – 15.9 gal
Max Range – 541 miles
Transmission/transaxle – CVT (AWD)
Vehicle Curb Weight – 3098 lbs
Exterior Dimensions:
Overall Length – 14' 7.2"
Overall Width – 70.1"
Overall Height – 63.6"
Wheelbase – 103.7"
Track Width – 60"
Ground Clearance – 8.7"
Approach Angle – 18.0*
Departure Angle – 27.7*
Max Cargo Capacity – 51.9 cubic feet
Brakes – Front: 11.6" / Rear: 10.8"
Steering – 34.8' turning radius
Tires – 225/55 R17 95H all-season
Suspension – double wishbone front and rear
Locking Differential – NA
Jeep:
Superior approach and departure angles.
More towing capacity.
More powerful 4-cylinder engine and even more powerful 6-cylinder option.
Slightly larger cargo area.
Thoughtful small item storage.
Selectable rear locker.
Fuel economy and range.
Turning radius.
Much lighter curb weight than the Jeep.
Low foot threshold makes getting in easier for smaller drivers.
Optional six-speed manual transmission.
Cons:
Jeep:
High purchase price.
Poor fuel economy.
Wrangler and XJ owners won't recognize you as a "real" Jeep owner.
Exterior design lacks imagination.
The Cherokee suffers from an abysmal fuel economy of 19/25 mpg.
Subaru:
Poor approach and departure angles.
It's still a wagon –sorry Subaru.
CVT transmissions inherently degrade driving enjoyment.
Poor acceleration.
Underpowered engine.
Strange sounding name.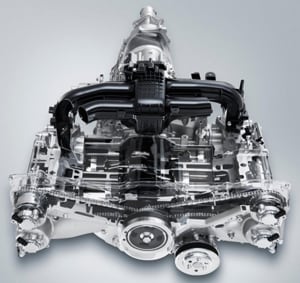 At 148 hp and 145 lb/ft of torque, the iconic Subaru boxer engine may struggle to keep up with traffic when loaded down with gear.
Conclusions...
A few bones to pick: With all of the technology available today, there is no excuse for the XV Crosstrek's lack of power. Subaru could have used a turbocharger to maintain it's impressive fuel economy while providing more power when needed. The Trailhawk is an extremely complex vehicle. As we all know, complexity can have dire effects on long-term reliability. Jeep continues to struggle with fuel economy. Even compact vehicles such as the Trailhawk receive abysmal mpg ratings. With that out of the way, both manufacturers have done a remarkable job of turning what could have been very benign offerings into well-rounded, surprisingly capable platforms. If you asked me ten years ago if a "cute-ute" or station wagon could be even half as capable as these two the answer would have been a shortsighted "no".
Though neither vehicle will bring you high praise from the overlanding elite, both are worthy of serious consideration as adventure mobiles. There are certainly a fair amount of well respected vehicles out there that are nowhere near as comfortable or capable. Perhaps it is time to rethink what it means to be an adventure mobile.